Learn more about this amazing sport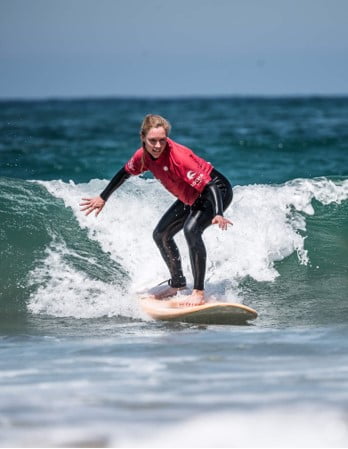 Duration:
3 Hours
Surf Armação de Pêra Beach has a duration of 3h in the water plus the additional time of about 30 minutes to equip, theoretical explanation, warm-up and practice in the sand.
Levels

:
All Levels
About:
Surf Lesson Armação de Pêra is a Surf lesson for anyone who wants to try the pleasure of surfing for the first time or for whom tried a surf class before and would love to have a longer class. These awesome classes happen every day at Praia da Rocha close to our school, at different times of the day. You can expect to be in the water for 3 hours with the permanent help of a certified and experienced coach.
Group warm-up to get the body ready for action
Surf and Safety briefing adapted to your previous surf experience
Sand practice with useful exercises to improve the technique
Surf action with goals, tips, and corrections
Surf gear
Local and certified surf coaches
Insurance
Water
Light snack
Swimsuit or extra underwear (to use under the wetsuit)
Sunblock
Good night's rest
Good mood