Blue Xperiences - Stand up Paddle en Algarve
Descubre las cuevas de Benagil de una manera divertida con el Stand Up Paddle de Blue Xperiences.
Blue Xperiences - Stand up Paddle en Algarve
Live an incredible adventure on the Algarve beaches
Sup o stand up paddle es un deporte popular en todo el mundo que tuvo su origen en Hawai. Es una actividad física que deriva del surf, muy completa, súper divertida, que permite un contacto cercano con la naturaleza y es adecuada para hombres, mujeres y niños sin requerir ninguna preparación física exigente. Con el Sup explora la naturaleza sin límites.

The practice of Sup in the Algarve allows you to discover great places. The region offers ideal conditions for the practice of stand up paddle: formidable beaches, good weather and a vast coastline to explore. Be closer to nature and experience an incredible adventure!
Las aventuras de las experiencias azules
Más cerca de la naturaleza.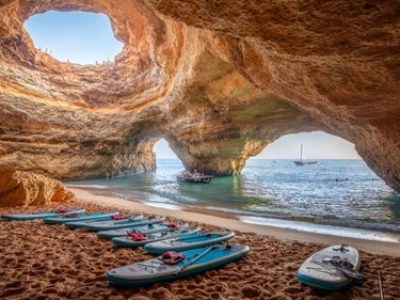 Get to know the beautiful beaches and maritime caves of Algarve accompanied by certified SUP instructor and local guide.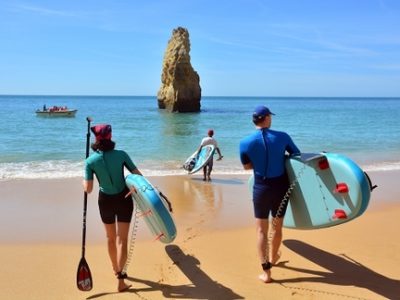 Try SUP at Sunrise in the Algarve caves, Benagil is very popular, this tour is for the early birds that love the calm of the first lights, simple activity, suitable for all levels
PUESTA DE SOL EN LAS CUEVAS DE BENAGIL
Disfrute de una experiencia mágica en este recorrido por las playas de Pear Frame con remo de pie en el Algarve al atardecer.