Blue Xperiences - Stand up Paddle en Algarve
Descubre las cuevas de Benagil de una manera divertida con el Stand Up Paddle de Blue Xperiences.
Blue Xperiences - Stand up Paddle en Algarve
Live an incredible adventure on the Algarve beaches
Sup o stand up paddle es un deporte popular en todo el mundo que tuvo su origen en Hawai. Es una actividad física que deriva del surf, muy completa, súper divertida, que permite un contacto cercano con la naturaleza y es adecuada para hombres, mujeres y niños sin requerir ninguna preparación física exigente. Con el Sup explora la naturaleza sin límites.

The practice of Sup in the Algarve allows you to discover great places. The region offers ideal conditions for the practice of stand up paddle: formidable beaches, good weather and a vast coastline to explore. Be closer to nature and experience an incredible adventure!
Las aventuras de las experiencias azules
Más cerca de la naturaleza.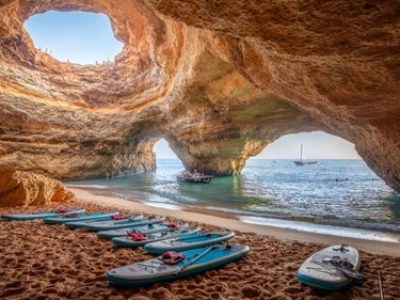 Visita a las cuevas de Benagil
Conozca las hermosas playas y cuevas marítimas del Algarve acompañado por un instructor de SUP certificado.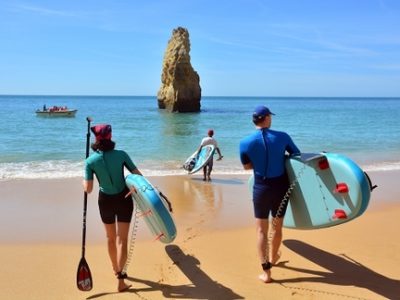 Prueba las clases Sup en el Algarve, una actividad muy simple, completa y adecuada para todas las edades y géneros.
PUESTA DE SOL EN LAS CUEVAS DE BENAGIL
Disfrute de una experiencia mágica en este recorrido por las playas de Pear Frame con remo de pie en el Algarve al atardecer.
We had a fun time with Bruno - the closest views of the caves with interesting details. Thanks, Bruno!
WiebkeM70
Tripadvisor
My husband and I thoroughly enjoyed our SUP tour of the caves with Bruno! We went out on a beautiful, but windy Tuesday morning. Bruno gave the group great SUP tips and instructions and made sure we had fun. The caves were amazing and Bruno pointed out lots of cool stuff while we explored the caves. We were so happy we did this SUP tour instead of one of the boat tours. We were able to see so much more of the caves and spend more time in them than the people on the boat tours did. If you visit the Algarve, sign up for a tour with Bruno! You will love it!
Buerk4
Tripadvisor
BlueXperiences was a first class tour company. My wife and I went on the Benagil Cave SUP Tour and not only do you get to get off your paddleboard and explore the Benagil Cave, you also get to see many other caves and secret beaches. We had never paddleboarded and Bruno was so helpful. He mad the whole experience a tour of a lifetime, he showed us all the secret spots and made the whole tour a fun experience. If we go back to Algarve we'll definitely do it again because it was so much fun. Thanks for the wonderful tour on our honeymoon BlueXperience, if you wand to paddleboard the Algarve the only way to do it right is through BlueXperience! Thanks Bruno!
Passenger824979
Tripadvisor