Blue Xperiences - Stand up Paddle no Algarve
Descubra as famosas grutas de Benagil de forma divertida com o SUP da Blue Xperiences.
Stand Up Paddle no Algarve
Viva uma aventura incrível nas praias algarvias
SUP ou stand up paddle é um desporto popular em todo o mundo que viu a sua origem no Hawai. É uma atividade física que deriva do surf, muito completa, super divertida, que permite um contacto próximo com a natureza e é adequada a homens, mulheres e crianças sem necessitar de qualquer preparação física exigente. Com o Sup explore a natureza sem limites. A prática de Sup no Algarve permite-lhe descobrir lugares formidáveis. A região oferece as condições ideais à prática de stand up paddle: praias formidáveis, bom tempo e uma vasta costa marítima para explorar. Esteja mais próximo da natureza e viva uma aventura incrível!

A prática do Sup no Algarve permite-lhe descobrir grandes recantos. A região oferece condições ideais para a prática do stand up paddle: praias formidáveis, bom clima e um vasto litoral para explorar. Esteja mais perto da natureza e viva uma aventura incrível!
As aventuras da Blue Xperiences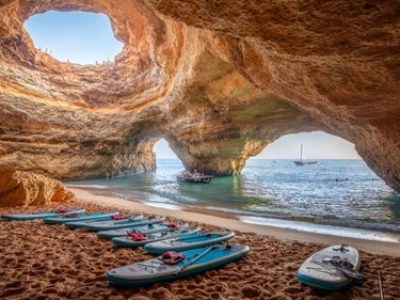 Conheça as belas praias e grutas do Algarve com SUP, acompanhado por um instrutor certificado.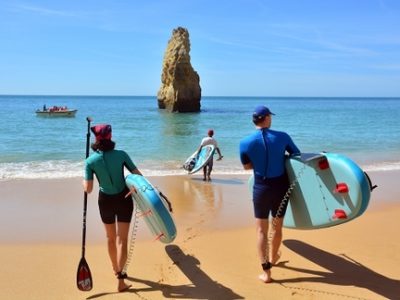 Experimente as aulas de Sup no Algarve, uma atividade muito simples, completa e indicada para todos os géneros e idades.
SUP AO PÔR DO SOL NAS GRUTAS DE BENAGIL
Viva uma experiência mágica neste passeio pelas praias do Algarve ao pôr do sol montado num SUP.
We had a fun time with Bruno - the closest views of the caves with interesting details. Thanks, Bruno!
WiebkeM70
Tripadvisor
My husband and I thoroughly enjoyed our SUP tour of the caves with Bruno! We went out on a beautiful, but windy Tuesday morning. Bruno gave the group great SUP tips and instructions and made sure we had fun. The caves were amazing and Bruno pointed out lots of cool stuff while we explored the caves. We were so happy we did this SUP tour instead of one of the boat tours. We were able to see so much more of the caves and spend more time in them than the people on the boat tours did. If you visit the Algarve, sign up for a tour with Bruno! You will love it!
Buerk4
Tripadvisor
BlueXperiences was a first class tour company. My wife and I went on the Benagil Cave SUP Tour and not only do you get to get off your paddleboard and explore the Benagil Cave, you also get to see many other caves and secret beaches. We had never paddleboarded and Bruno was so helpful. He mad the whole experience a tour of a lifetime, he showed us all the secret spots and made the whole tour a fun experience. If we go back to Algarve we'll definitely do it again because it was so much fun. Thanks for the wonderful tour on our honeymoon BlueXperience, if you wand to paddleboard the Algarve the only way to do it right is through BlueXperience! Thanks Bruno!
Passenger824979
Tripadvisor