Blue Xperiences - Stand up paddle en Algarve
Découvrez les grottes de Benagil de manière amusante avec le Stand Up Paddle de Blue Xperiences.
Blue Xperiences - Stand up paddle en Algarve
Live an incredible adventure on the Algarve beaches
Le SUP ou le stand up paddle est un sport populaire dans le monde entier qui a vu son origine à Hawaï. C'est une activité physique qui dérive du surf, très complète, super ludique, qui permet un contact étroit avec la nature et convient aux hommes, femmes et enfants sans nécessiter de préparation physique exigeante. Avec le Sup, explorez la nature sans limites.

The practice of Sup in the Algarve allows you to discover great places. The region offers ideal conditions for the practice of stand up paddle: formidable beaches, good weather and a vast coastline to explore. Be closer to nature and experience an incredible adventure!
Les aventures de Blue Xperiences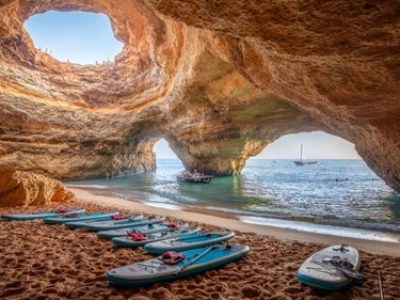 Get to know the beautiful beaches and maritime caves of Algarve accompanied by certified SUP instructor and local guide.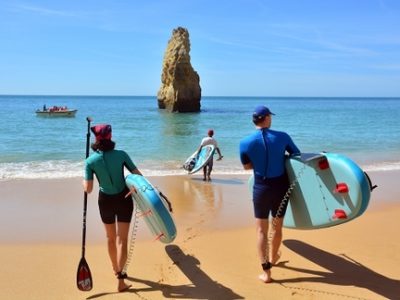 Apprendre le Stand Up Paddle
Try SUP at Sunrise in the Algarve caves, Benagil is very popular, this tour is for the early birds that love the calm of the first lights, simple activity, suitable for all levels
SUNSET SUP CHEZ BENAGIL CAVES
Visite au coucher du soleil
Profitez d'une expérience magique lors de cette visite des plages de Pear Frame avec du stand up paddle en Algarve au coucher du soleil.