Blue Xperiences - Stand up paddle en Algarve
Découvrez les grottes de Benagil de manière amusante avec le Stand Up Paddle de Blue Xperiences.
Blue Xperiences - Stand up paddle en Algarve
Live an incredible adventure on the Algarve beaches
Le SUP ou le stand up paddle est un sport populaire dans le monde entier qui a vu son origine à Hawaï. C'est une activité physique qui dérive du surf, très complète, super ludique, qui permet un contact étroit avec la nature et convient aux hommes, femmes et enfants sans nécessiter de préparation physique exigeante. Avec le Sup, explorez la nature sans limites.

The practice of Sup in the Algarve allows you to discover great places. The region offers ideal conditions for the practice of stand up paddle: formidable beaches, good weather and a vast coastline to explore. Be closer to nature and experience an incredible adventure!
Les aventures de Blue Xperiences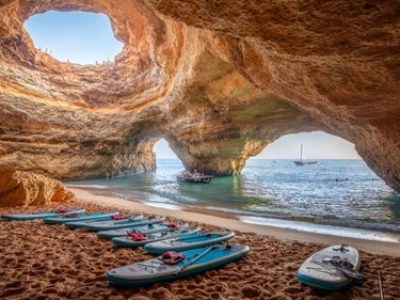 Visite des grottes de Benagil
Apprenez à connaître les belles plages et les grottes maritimes de l'Algarve en compagnie d'un moniteur de SUP certifié.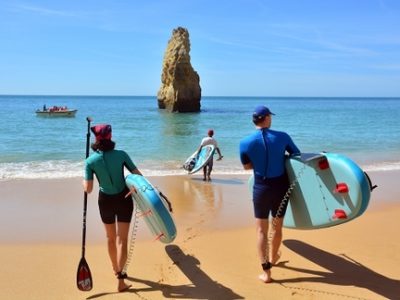 Apprendre le Stand Up Paddle
Essayez les cours de Sup en Algarve, une activité très simple, complète et adaptée à tous les âges et genres.
SUNSET SUP CHEZ BENAGIL CAVES
Visite au coucher du soleil
Profitez d'une expérience magique lors de cette visite des plages de Pear Frame avec du stand up paddle en Algarve au coucher du soleil.
We had a fun time with Bruno - the closest views of the caves with interesting details. Thanks, Bruno!
WiebkeM70
Tripadvisor
My husband and I thoroughly enjoyed our SUP tour of the caves with Bruno! We went out on a beautiful, but windy Tuesday morning. Bruno gave the group great SUP tips and instructions and made sure we had fun. The caves were amazing and Bruno pointed out lots of cool stuff while we explored the caves. We were so happy we did this SUP tour instead of one of the boat tours. We were able to see so much more of the caves and spend more time in them than the people on the boat tours did. If you visit the Algarve, sign up for a tour with Bruno! You will love it!
Buerk4
Tripadvisor
BlueXperiences was a first class tour company. My wife and I went on the Benagil Cave SUP Tour and not only do you get to get off your paddleboard and explore the Benagil Cave, you also get to see many other caves and secret beaches. We had never paddleboarded and Bruno was so helpful. He mad the whole experience a tour of a lifetime, he showed us all the secret spots and made the whole tour a fun experience. If we go back to Algarve we'll definitely do it again because it was so much fun. Thanks for the wonderful tour on our honeymoon BlueXperience, if you wand to paddleboard the Algarve the only way to do it right is through BlueXperience! Thanks Bruno!
Passenger824979
Tripadvisor